Here's the info from IG's website: "Nearly a quarter of a million youth are tried, sentenced, or imprisoned as adults every year across the United States. On any given day, ten thousand youth are detained or incarcerated in adult jails and prisons.
Putting a human face to these sobering statistics, Boy With A Knife tells the story of Karter Kane Reed, who,  was sentenced to life in an adult prison for a murder he committed at the age of sixteen in 1993 in a high school classroom. Twenty years later, in 2013, he became one of the few men in Massachusetts to sue the Parole Board and win his freedom.
The emotional and devastating narrative takes us step by step through Karter's crime, trial, punishment, and survival in prison, as well as his readjustment into regular society. In addition to being a powerful portrayal of one boy trying to come to terms with the consequences of his tragic actions,





How to Work It:


A Publishing Workshop
Several years ago, I thought if I, Jean Trounstine could get published at the tender age of…well never mind, but I thought essentially, if I could do it, so could you. More.
First up, my new book, Boy With A Knife: A Story of Murder, Remorse, and A Prisoner's Fight for Justice, which has recently hit the stands, published by the wonderful press, IG Publishing: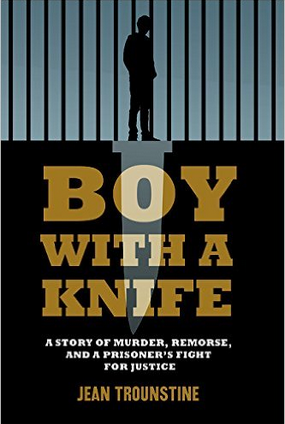 Order Now!
Boy With A Knife is also a searing critique of the practice of sentencing youth to adult prisons, providing a wake-up call on how we must change the laws in this country that allow children to be sentenced as adults."
Follow  @justicewithjean
Contact Info
For Book Related Events 
READ EXCERPT on Alternet
Media about BWAK 

Read Praise for BWAK from:
Nell Bernstein
Reginald Dwayne Betts
Judge Nancy Gertner
Piper Kerman
Dr. Robert Kinscherff
Caroline Leavitt
TJ Parsell
Luis Rodriguez
Shon Hopwood
Christopher Zoukis
REVIEWS
Luis Rodriguez Blog,
Chris Faraone in Dig Boston
Christopher Zoukis in Huffington Post
David Swanson in Let's Try Democracy
Eleanor Bader on Truthout
Listen: KARTER REED on Radio Boston