Almost Home Free


Pecan Grove Press, 2003

In January of 2000, just after the Millennium celebrations died down, I found a lump in my right breast. I was in Texas, at my mother-in-law's, miles away from my Boston home. Like many who enter the dark tunnel of cancer, I feared for my life, fought back with treatment and depended on family and friends to help me with hope. My particular nature also took me to the page where I found comfort in writing and a way to express my unique as well as my universal experiences.
Thus began a journey, a journey fostered by my innate understanding that art is always most important to the artist when it joins forces with survival. The writing of Almost Home Free first came in long freewrites, words pouring out over each other. Then, over the course of the cancer treatment and healing process, the book found its form and words took shape in poems. I think of these poems as a narrative: they tell a year in the life of a breast cancer patient but the underlying story is of family, struggle and a way to live amidst uncertainty. Poem after poem taught me that it is in the moment where the survivor lives most fully. Almost Home Free (Pecan Grove Press, 2003) is the story of how none of us make it home, free.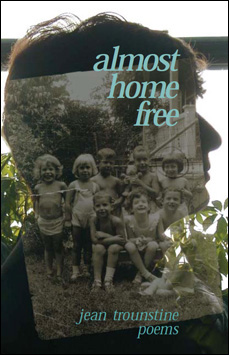 Click here for poems from AHF or click here to see more Media about the book
Click

BUY THE BOOK
from Barnesandnoble.com
---
praise for Almost Home Free
—Jean Trounstine, activist author of Shakespeare Behind Bars: The Power of Drama in a Women's Prison, has written a superb book on her battle with breast cancer. The title is Almost Home Free, a book packed with truth. To come to grips with her disease, Trounstine wrote poems about her experience, a journey from the near-death of breast cancer to a slow, tantalizing rebirth that slides her out of disease and back into the world. In Shakespeare Behind Bars, Trounstine recorded her deep passion for helping others. That same emotional energy pulses through these poems in Almost Home Free, from the terror of being swallowed by her disease ("I am engulfed in the lump in my breast") to sad memories of her mother in the hospital ("my mother couldn't say the word cancer") to the ugly pain of chemotherapy ("how I cry when the nurse finds my vein") to that breathless limbo of grateful wonder where the patient, freed from the clutch of deadly disease, wanders the universe seeking signs that she is indeed home free. In "Now What," for example, Trounstine wanders the rooms of her house, touching the door frame, checking for leaks in the bathroom, using familiar objects to define her identity as a cancer-survivor:
Paint would tell me who I am
if only I could pull it back,
crush pieces of white between my fingers.
I wonder if the walls have answers –
how to live without cancer.
Home Free is a baseball metaphor, a tribute to the poet's father, who loved the game. In "Baseball," as she remembers her childhood, love bleeds through the lines:
Summer nights, we'd watch the Cincinnati Reds,
sit together in the stands, put peanut shells
on our heads for good luck.
I'd yell Kill the umpire just to hear him
chuckle. His gotcha-kid-I'm-with-you smile
always made me sure.
In the car on the way home,
he'd let me sit on his lap and steer.
A fine book here. A glorious, triumphant, courageous book. If you're sick, it will perk you up, put steel in your spine, ignite a glint in your eye. If you're not sick, these poems will make your eyes flow with tears.
Robert J. Ray
Author of The Weekend Novelist
______________________________________________________________________________________________
—With lucidity and courage, Jean Trounstine forges alliances with her readers exploring the turbulent journey of a cancer patient. In this journey, we are blessed by the language of healing- triumphant, translucently honest. Almost Home Free is a tale of fortitude.
Marjorie Agosin, author of The Angel of Memory, Dear Anne Frank and more than 20 other books
—Jean Trounstine's Almost Home Free is a book for every one of us who has contemplated our life from the heights and depths of opposing forces. From the crucible of fear and uncertainty Trounstine limns a character who looks and acts just like us. We go with her as she burrows back into the experience that gives shape to this book- a testament to life's enduring passage. "There's no way back from knowing," she says in 'Getting Well.' This is the first of many truths Trounstine gives us in this extraordinary collection of poems.
Pam Bernard, author of My Own Hundred Doors, Across the Dark and Blood Garden.
—The diagnosis of breast cancer comes suddenly and without explanation. Lives are disrupted and are never the same. Supportive family and friends are helpful, but it is easy to feel alone. Jean Trounstine shares a portion of her life in this collection of poems and those undergoing treatment in the future may read these poems and feel less alone. Family and friends will find them useful to more fully understand the physical and emotional tolls and emergence. It is healing for all.
Dr.  Susan Troyan, Surgical Director, Beth Israel Deaconess Medical Center, Boston