This week, I have found myself amidst two poles: the absurd arrest, lack of monitoring in jail, and death of Sandra Bland in Texas, and the joyous #BlackLivesMatter gathering in Cleveland July 24-26, where blacktivist men and women are meeting to plan next steps of a growing movement.
And yet, also in the news, not quite as prominent, but certainly populous amidst claims that Sandra Bland was depressed, are the infuriating and tragic stories of people who are sick or plagued with some kind of mental illness and are not getting adequate treatment behind bars.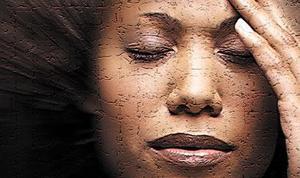 Photo Courtesy of the Indianapolis Recorder
I come to these stories with experience. When I taught at Framingham MCI in Massachusetts I watched Dolly, a prisoner who I wrote about in Shakespeare Behind Bars, worry about her heath. First she was sent to have a mammogram and was waist-chained and handcuffed on the way, only to sit in a one-way mirrored room at the hospital for almost eight hours. No mammogram. Nothing but waiting. Dolly swore she'd never go back, damn the cancer, because who could stand such humiliation? Then, when she finally got out of prison, she had heart problems—all from lack of care. Dolly ended up dying in her 70's, way too young, but not surprising, considering that 55 is borderline geriatric behind bars.
But at least Dolly got out of prison. Mamie, another student, tripped and fell on a prison walkway when moving from one unit to another. It took a while to get guards to respond to the fall, she later told me, and others concurred. She had been complaining about pains and ignored for weeks. Again, diagnosed with cancer. This time, she died before she could get out— in a hospital, alone, without her family.
So, when I read stories, like the one in Newsweek this week, entitled "Don't Get Cancer if You're in Prison," I echo back to images of Mamie in a hospital bed and Dolly storming into our class from that awful hospital van ride. And I echo back to my own breast cancer more than fifteen years ago, where I immediately had help from friends and family, excellent medical care, a good prognosis, and follow-up treatment. Today I am as healthy as I ever have been.
But not so for so many who suffer such a gruesome disease in prison. The story of Manfred Dehe, reported in that Newsweek article, stated he had to beg health care workers at the Arizona State Prison Complex-Eyman for health care. It took Dehe six months to get an exam that proved he had metastatic prostate cancer after blood tests were alarmingly elevated. Likewise, a California prisoner, Ferdinand Dix, "complained for two years of lung cancer symptoms such as chronic cough and shortness of breath, and tested positive for tuberculosis—but never received proper treatment."
"There is little public investment in correctional health care systems, and generally speaking neither public nor private providers can offer competitive salaries to prison health care workers," wrote Victoria Bekiempis. Problematic too are privatized prison health care groups like Wexford Health Sources and Corizon, considered to be in it for the money—both well-aware of Dehe's symptoms, said the Newsweek article.
Massachusetts's Deborah DiMasi, the wife of convicted former House Speaker Sal DiMasi has gone on record over and over that she fears her husband will die in prison. I wrote about Sal DiMasi for Boston Magazine delineating the poor treatment he received behind bars in 2013. On July 13, 2015, his wife told WGBH her husband waited for a biopsy for three months. "There was seven months of time that his cancer was allowed to spread, and it did spread. So that to me is just so inhumane."
As I wrote in 2013, we should be giving treatment to sick and dying prisoners. And Massachusetts should be supporting medical release in dire cases for the ill and elderly. Per my online article in Boston Magazine about DiMasi, "more than forty states have some sort of medical release provision. According to Modern Healthcare, an online news weekly, Michigan has managed to release 100 elderly and infirm prisoners since 2008." In Massachusetts it costs more than $68,000 to house a state prisoner who is sick and dying,  "If those 100 prisoners were released and lived for one year beyond their release, it would mean a savings of $6.8 million."
Which brings me to another occurrence this week: why the Massachusetts Legislature needs to support an override by the governor to Prisoners' Legal Services' (PLS) budget. While PLS is a nonprofit, its biggest source of funding is its contract with the Masschusetts Supreme Judicial Court. Governor Charlie Baker vetoed 12% (over $190,000) of PLS' appropriation last Friday.
Among many of the things PLS has done for prisoners in Massachusetts, it has championed H.1628 / S.843, a medical release bill which would be cost effective at a time when every dollar counts. This bill has not yet had a hearing, but it is a no brainer, in my opinion. And it is one drop in the bucket of the painstaking work that PLS does for prisoners.
I urge Massachusetts people to contact their representatives by MONDAY, JULY 27th, and say they want them to override Governor Baker's veto of $194,504 for Prisoners' Legal Services (0321-2100). You can also call the Speaker and the House Ways and Means Chairman:  the Speaker's office (617.722.2500) and the office of Chairman Dempsey (617.722.2990) voicing your support for an override.
Meanwhile, prisoners are sick and dying, disappearing as my friend Lois Ahrens of the Real Cost of Prisons Project, says. They are disappearing behind walls, bars, chains, locks, and silence. When we can speak out, we must. It is our freedom, our right, our obligation.